It's official! Laser Cap Me now accepts cryptocurrency payments. If you're looking to save even more money on your lasercap, paying with cryptocurrency can save you an additional 5% off our already low prices! Additionally, we allow these savings in combination with our famous $1,000 instant rebate subsidy offer! Seriously!
If you're familiar with cryptocurrency, then all you have to do is contact us, perform a consultation and then send payment. Simple right!? Of course, please let us know before you send your cryptocurrency payment and which currency you'll be paying with so we know to expect it.
However, if you're unfamiliar with crypto but still want to save on your hair restoration at Laser Cap Me, the information below should help you along with the process.
About Cryptocurrency
In a nutshell, a cryptocurrency is a form of digital payments made directly between the parties involved. To buy some, you will first have to purchase them from a centralized exchange. However, after that, you're able to use them to purchase or pay for anything around the world. They are similar to the way that Zelle, Paypal, or Venmo work. However, unlike centralized payment processors like those named above, the system is all operated by a decentralized network of supercomputers.
Additionally, cryptocurrencies hold greater value than traditional government-issued money as most of them do not suffer from inflation. In other words, the U.S. government may go on producing more currency all the time, while Bitcoin's supply is limited and will never be increased. Therefore, its value continues to rise instead of fall like the American Dollar. That's why they're so popular.
I Don't Know Much About Cryptocurrency
The world of cryptocurrency is pretty complex. Trust us, we know. But for the average person, you only need to know a couple of things about cryptocurrency, how to obtain it, and how to pay with it. And don't worry about the time it takes to get the initial process out of the way. If you've never purchased any cryptocurrency before, this will be a great time to get yourself set up and on the way to learning more about this amazing new financial ecosystem.
When you're ready, follow the steps below and you'll be on your way to using cryptocurrency!
Go Buy Some Cryptocurrency
You can purchase cryptocurrency on one of many centralized exchanges. We recommend using Gemini Exchange. Their fees are much lower than Coinbase which will help save you money. Additionally, Gemini will clear your identification documents and bank info much faster than other exchanges like Binance. And yes, you will need to provide the cryptocurrency exchange you choose with various layers of identification. This is put in place to prevent fraud. But don't worry. These sites are extremely secure and you have no reason to worry about using them. Finally, we prefer Gemini, as they offer all three cryptocurrencies that Laser Cap Me currently accepts.
Remember to choose a payment method that won't take too long to clear. For example, if you try to buy cryptocurrency with a credit card, it may take longer for funds to clear than if you used your checking account or debit card. Most exchanges will have a clearing period of at least a few days, so make sure to take care of this process sooner rather than later.
Set Up Your Wallet
Setting up an account with a centralized exchange will automatically create a "wallet" for your funds. This is where you will send and receive your cryptocurrencies. It's just like the wallet in your pocket. There are many other types of wallets and various reasons some people choose these. However, for our purposes, you should not require anything other than the account you have with your exchange.
The most important thing to remember is that every currency has a different "address" that it matches up with. For example, Bitcoin has to be sent to a Bitcoin wallet and Ether has to be sent to an Ethereum wallet. While some wallets are able to accept multiple coins, you always need to double-check that you are sending coins of one type to a wallet address that accepts that specific coin. If you don't check this, you may send your coins to a non-existent place and they may be lost forever.
Luckily, if you use Gemini to purchase your cryptocurrency, the built-in wallet on their website (referred to as your "portfolio") will allow you to send and receive all three cryptocurrencies that Laser Cap Me accepts.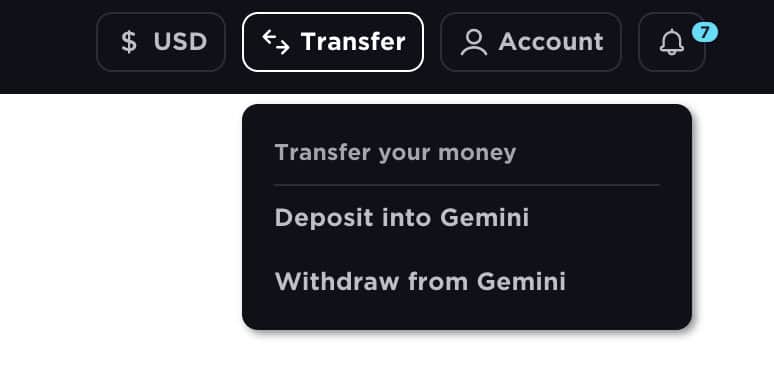 Send Payments
So now that you're all set up and have purchased your cryptocurrency, all that's left to do is send the payment. When you're ready to send payment, you would simply choose the "Withdraw from Gemini" option at the top, choose the coin you want to pay with, and enter our wallet address. You can find those wallet addresses below.
Which Cryptocurrency Do You Accept?
At this point in time, we accept three cryptocurrency coins – Bitcoin (BTC), Ethereum (ETH), and the DAI stablecoin.
Bitcoin (BTC) – The first cryptocurrency created and the most well-known in the world.
Ether (ETH) – The currency of the Ethereum network where most cryptocurrency and Decentralized Finance (DeFi) applications are built.
DAI stablecoin – A cryptocurrency payment option algorithmically-tied to the United States dollar. The value for DAI is always as close to the dollar as possible. Therefore, this may be the best choice for patients looking to pay a stable amount for their procedure.
How Do I Pay With Cryptocurrency?
Paying with cryptocurrency is actually quite easy as soon as you know how to do it. If you've followed the steps above, all you have to do is choose which coin you'd like to pay with and then choose the appropriate address to send it to. Below, you can find our addresses for each coin we accept. Again, before sending, please let us know you will be sending a particular form of payment and when you will be sending it. That way we know to expect it and can inform you as soon as we've received it. Then, you'll be all set you'll have received an additional discount for using cryptocurrency.
Just copy the address below and input it into the address box under the "Withdraw" section of the website. Below is an example of what Gemini's exchange looks like.
Send Payment to These Wallets:
Bitcoin (BTC) – bc1qxnd4qhcq6gzjyw5dyqt3y8dpq0puedvjmlglza
Ethereum (ETH) – 0xDd9118EF8E9c738b3a70A90474C79BeaBDA5004C
DAI stablecoin – 0xDd9118EF8E9c738b3a70A90474C79BeaBDA5004C
And bam! That's it! You just saved hundreds of dollars by paying for your laser hair device with cryptocurrency! Again, please let us know before you send the payment so we can confirm when it arrives and who it's from. Once we've received your payment, we can schedule your appointment!
If you need help with this process when paying for your laser hair restoration device, please feel free to call us and ask for walkthrough assistance. We'll be happy to help you out. Additionally, we'd be happy to send you a QR code payment request if that will be easier for you. Either way, just ask.
Contact Us For Help
Laser Cap Me
1970 S. Prospect Ave. Suite 2
Redondo Beach, CA 90277
(213) 403-0455