Check Out These Laser Cap Results Images
For those of us not familiar with Laser Caps, let's get something straight. They're definitely not what Austin Powers's nemesis Dr. Evil attached to the heads of his killer sharks. Even though Dr. Evil's sharks did have "frickin' laser beams" attached to their heads, that's unfortunately where the similarities end. The Laser Cap results images you will find on your favorite search engine and those in this article look pretty extraordinary. Really, just seeing the Laser Cap results images could be enough proof you need to go ahead and call us for your Capillus.
There is real-time science behind the Laser Cap that makes this hair restoration technology one of the leading hair restoration techniques in the field today. Those Laser Cap results images that you are looking at seeming near magical. However, it's even better than magic. In fact, it's pure science and cutting-edge technology that makes those results possible. And in the end, isn't that a million times better?
How the Laser Cap Science Works
The CapillusRX™ Laser Cap employs the use of low-level laser therapy (LLLT) also known as photobiomodulation, but for the sake of our tongues let's just call it LLLT. Back in 1967 a fellow named Endre Mester, working at Semmelweis University in Budapest, Hungary, discovered that this particular low light laser would induce shaved mice to regrow hair much faster and more quickly than unshaved mice. (Mester E, 1967). Mester also discovered that the LLLT would induce the healing of wounds in mice as well. The research emerging from this discovery began works using LLLT to reduce inflammation, edema, and chronic joint disorders. (Bjordal JM, 2003).
LLLT uses low light lasers of a red or near-infrared light that is at an extremely low-level density compared to other forms of laser therapies. Unlike the lasers employed by Doctor Evil's sharks, LLLT lasers are such low-density lasers they are often referred to as "cold lasers". That's because they don't produce any heating of tissue.
There is a great deal of knowledge and skill involved with LLLT therapy. Proper use of the wavelength, fluence, power density, and timing of the applied light must be perfect for the specific treatment that LLLT is applied to. A great deal of the negative therapeutic outcomes published today regarding LLLT is due to researchers not applying the correct parameters to their experiments with the science. In fact, LLLT is characterized by the phases of does of light as lower doses of light are more beneficial than high doses. (Huang YY, 2011).
Real Laser Cap Results Images
Throughout this article, you'll find REAL, NO BS Capillus laser cap results images. Some from our own customers and study participants, others from Capillus themselves. One of the main things you'll notice is how much thinning was present before the use of the Capillus laser hair cap. And this goes for all the images. After all, Capillus is a great tool to fight hair thinning hair.
The women above and below were both thinning considerably in the center of their scalps. This is a common form of hair loss for women, as they rarely go completely bald as men do. This is great news for women because most of the time, female hair loss sufferers won't need to get a hair transplant procedure. In other words, for most women experiencing thin hair, Capillus Rx312 may be enough to see dramatic results.
Male Capillus Patient Results
For the male patients at the top and bottom of the article, you can see they were much farther along in their hair loss than the women. However, they still experienced fantastic results. You can see in their laser cap results images that Capillus thickened up what were very thin scalps. And it's a good thing too because Capillus likely aided the hairs in the progression toward full death and reversed the process.
With male patients like this, you can now choose a few different options. You can just stay with the Capillus results you get from this amazing LLLT device. You can include prescription and over-the-counter drugs to prevent further hair loss and help control your hormones. Finally, you can choose to receive a hair transplant as well. And yes you can do all three! Capillus works great in tandem with a hair transplant. In fact, we recommend Capillus to many of our hair transplant patients at our hair restoration facility Best Hair Transplants in Redondo Beach.
Is Capillus Right For You?
For hair restoration purposes, the low-level lasers trigger a positive metabolic charge on the scalp when it is applied to dying hair follicles. The red blood cells undergo stimulation from the oxygen and nutrients produced by the low-level lasers which increase the blood circulation to the laser applied areas. The increased blood circulation, in turn, revitalizes the dying and underperforming hair follicles and stimulates them to begin regrowing thicker and stronger.
Just a fair warning about the CapillusRX™ Laser Cap and other similar products. LLLT technology has no ability to grow hair where there are no living hair follicles. It's unfortunate but those are the facts. If you have been bald for years, chances are the hair follicles in the affected area had died off long ago, and an application of LLLT has no ability to stimulate the dead follicles back to life. We tell you this because we don't want you to waste your money on a product that will not help your particular hair loss situation.
If you look closely at the laser cap results images you will see that in all of the before images, the people are affected by just thinning hair, and there are not fully bald individuals in the before pictures. This means that the Laser Cap is best used during the early stages of hair loss or in combination with a hair transplant surgery. If you are fully bald and you undergo an FUE or FUT transplant, then the procedure will transplant living hair follicles to the bald areas. Then the LLLT, when properly applied, will then stimulate the transplanted hair follicles to grow thicker and stronger than they would on their own. This makes the Laser Cap a perfect combination with an FUE or FUT hair transplant surgery.
Before & After Laser Cap Results Image
Right now, you are just one step away from having stronger, fuller-looking hair. We know the Laser Cap results images look nothing short of spectacular, but those results can be yours! There is nothing magical about the science behind the CapillusRX™ Laser Cap. In fact, each of our products is meticulously engineered and calibrated to increase blood flow. Capillus stimulates the hairs to transform them into lively, strong follicles.
If you want to become an actual laser cap results image like all of the rest of our happy customers, hitting that Buy Now button will be the first step. The CapillusRX™ Laser Cap is fully FDA approved and people from all around the world are reaping the benefits. Do not settle for a generic, improperly engineered, and calibrated laser cap or comb. LLLT is a delicate and exact science and cutting corners could result in no results at all.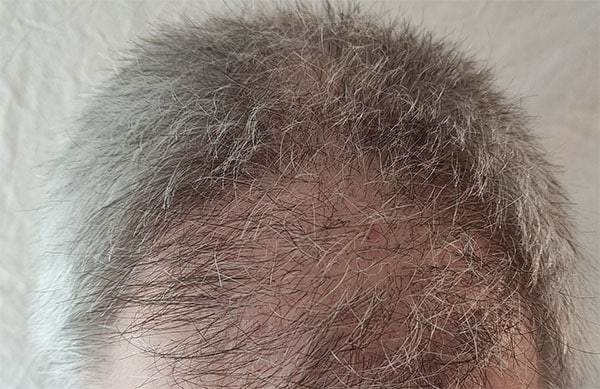 Call Us for Your Capillus Lasercap
Why wait? Contact us today to ask about the Capillus 312 laser device. If you're not sure, call us so we can have a free virtual consultation with you to discuss your available options and how laser hair therapy may be beneficial for your unique hair loss situation and hair restoration goals.
Laser Cap Me offers better prices for the Capillus hair cap laser hair restoration hat than you can find for a lesser-grade device. So what are you waiting for? Stop hair loss now! Contact us to purchase your Capillus 312.
You can reach us at 213-403-0455, or send us an email. You can also find out further details by visiting our clinic's site Best Hair Transplant.
References:
Bjordal JM, C. C. (2003). A systematic review of low level laser therapy with location-specific doses for pain from chronic joint disorders
Huang YY, S. S. (2011). Biphasic dose response in low level light therapy—an update. PubMed
Mester E, S. B. (1967). Effect of laser on hair growth of mice