AVAILABLE NOW
Laser Cap Me is committed to offering a variety of laser hair restoration devices to help men and women restore their thinning hair. We offer products for local pickup in the Los Angeles area and ship nationally to service customers all over the United States.
NOBODY BEATS OUR PRICES!
Introducing the Xtrallux Extreme RX Hair Regrowth lasercap, a cutting-edge wearable device designed to address androgenetic alopecia with consistent use.
This innovative lasercap utilizes red laser LLLT energy, delivering targeted stimulation to the scalp during brief 6-minute daily sessions. By doing so, it aims to rejuvenate dormant hair follicles and promote robust hair growth for a healthier, more revitalized appearance, all without the need for a hair transplant.
ORIGINAL COST
$3,500.00 Plus Tax
Save $1000 Now!
Participate in our Before & After photo subsidy offer!
Shipping Cost
Free in the United States
TERMS
Xtrallux 352 is a medical device and cannot be returned. Credit card transactions cannot be disputed. All sales are final. In order to receive $1000 subsidy rebate off the $3500 MSRP, Patient/Buyer must provide Laser Cap Me DBA 21st Century Management, Inc. progress photos every 4 months for 12 months. Product must be registered with Xtrallux within 30 days of purchase in order for 5 year warranty to be in effect.
Laser Cap Me & You
Experience the freedom and convenience of cap's hair growth solutions. Simply charge it and place it inside the provided hat, or place it inside your own hat. You can then go about your daily activities without having to set aside time for LLLT. It is important to make sure that the lasers target and simulate the scalp area for maximum effectiveness. Use as instructed daily and see improved results in 60 days. It's that easy.
The XTRALLUX® Hair Regrowth Cap is a wearable device that helps regrow thicker, healthy-looking hair with continued usage. Red laser energy is delivered to the scalp during each daily 6-minute treatment session to restore viable hair follicles for healthy hair growth. Xtrallux Hair Regrowth caps use a medically-accepted way to treat hereditary hair loss that treats hair follicles at the root of hair. It increases hair volume, restores healthy hair growth, and is a clean, mess-free treatment option for both men & women with hereditary hair loss. Unlike other treatments for hair growth, like minoxidil and pills, Xtrallux is a drug-free & safe treatment that uses only light energy. Compliance to the protocol is quick and easy. Wear just 6 minutes each day.
Did you know that 80% of adult men and 50% of adult women experience hair loss? Unfortunately, not all patients suffering from hair loss qualify for hair transplant procedures including FUE and FUT.

This is where the hair growth remedy of Low-Level Light Therapy comes in. Studies indicate that LLLT may convert Adenosine Triphosphate (ATP) to Adenosine Diphosphate (ADP) which releases energy and triggers a positive metabolic charge.
Red blood cells undergo stimulation from oxygen and nutrients during the LLLT process, which in turn directs them to the section where the low-level laser is focused. This technique results in increased blood circulation to the scalp. Overall scalp and hair health is boosted in addition to encouraging hairline growth.
For years, LLLT has been used to effectively treat female hair loss, male hair loss, hair thinning, hair shedding, and receding hairlines by utilizing time-consuming applicators or heavy, expensive office equipment.
In the past, LLLT required multiple appointments weekly over a long period of time for effective results. These methods were inconvenient, impractical and too expensive for most patients seeking hair growth treatments. Laser cap devices are the solution to these problems.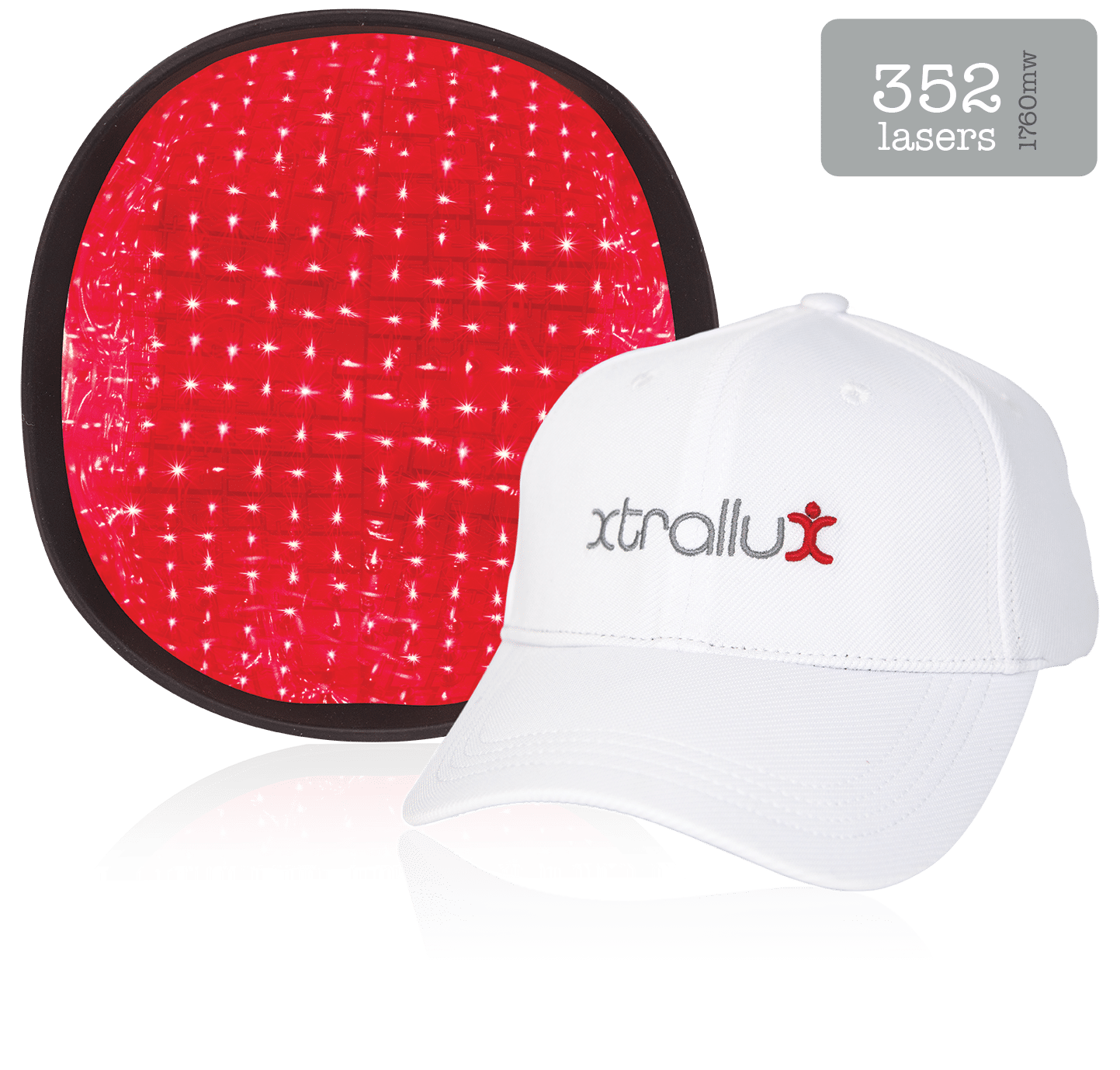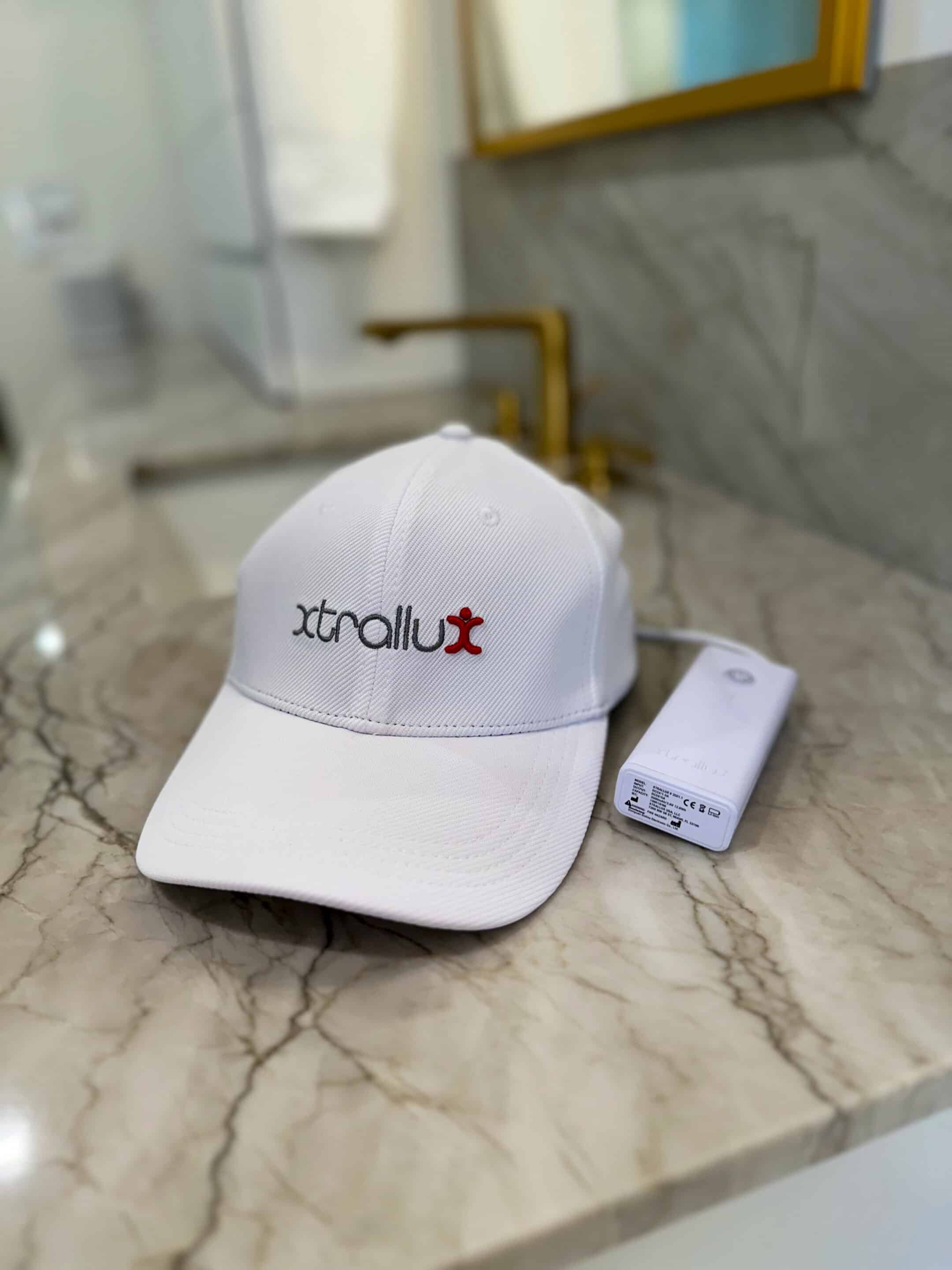 Laser Cap Me has announced the release of the Xtrallux Extreme RX 352 Hair Regrowth Laser Cap. The new (one-size-fits-all) flex-fitting cap has the most number of lasers and simultaneous coverage of any laser cap device on the market, offering 40 more lasers than the Capillus RX 312 prescription lasercap. The device is the first laser therapy cap to be introduced with 6-minute daily treatment sessions.
Unlike the hair growth caps available on online stores, the Xtrallux Extreme RX Hair Regrowth Laser Cap is available only through select providers like Laser Cap Me. It's the most powerful cap on the market, featuring more lasers than any wearable device currently boasting 352 laser diodes. This FDA-cleared wearable laser caps feature 352 LLLT lasers to treat hereditary hair loss and balding, safely and conveniently with just 6-minute daily treatments.
A Real Laser Hair Restoration Solution
Laser Cap Me offers portable laser hair restoration devices produced by Xtrallux.
Xtrallux 352 laser therapy is a physician-recommended, FDA-cleared treatment clinically proven to regrow thinning hair and prevent further progression of hair loss due to androgenetic alopecia (pattern balding). For only 6 minutes of use per day, Xtralux laser therapy caps utilize safe, low-level lasers to stimulate, energize, and renew cells within the hair follicle for thicker, healthier hair.
The device has 352 diodes, all fitted snugly into a comfortable hypoallergenic base. The Xtrallux Extreme RX Hair Regrowth Laser Cap requires the user to wear the cap for only six minutes per day. This is a vast improvement over the prescription Capillus model, which has 40 fewer diodes. Providing a steady power output to the laser diodes guarantees steadier diode energy output.
What's Included in Your Xtrallux Kit?
Flexible Fitting Laser Dome
Xtrallux branded Sports Cap
Rechargeable Li-Ion Power Pack (with Optional Belt Clip)
AC Adapter with 4 Interchangeable Input Blades
Travel & Storage Case (with Strap)
John - Flagstaff, AZ
"You helped me achieve absolutely amazing results! My hair is so much thicker and more dense. People constantly remark that I look so much better!"
Jennifer - Beverly Hills, CA
"I didn't know what to do about my thinning hair. Then I found Laser Cap Me. Goodbye hats and scarves, hello sunshine and freedom!"
Samuel - Chicago, IL
"I simply couldn't believe the results I got! I feel great! I'm so glad I found Laser Cap Me and gave them a go before I lost even more of my hair."
At Laser Cap Me, we believe that pictures speak louder than words!

We invite you to browse through some of our real hair restoration cases in our gallery. Click the button below to view our patients' before and after results from undergoing LLLT for hair loss using Xtrallux products.
Call Now Or Inquire To Receive $1,000 Off Your Xtrallux 352 Cap!
Phone:
(213) 403-0455
Address:
1970 S. Prospect Ave. Suite #2
Redondo Beach, CA 90277
Call Now Or Inquire To Receive $1,000 Off Your Xtrallux 352 Cap!
Phone:
(213) 403-0455
Address:
1970 S. Prospect Ave. Suite #2
Redondo Beach, CA 90277
FREE SHIPPING WITHIN THE U.S.