Capillus LaserCap Delivers Real Hair Growth Results
If you've looked into lasercaps and laser hair restoration, you might be skeptical. And who can blame you? To be honest and completely blunt, there are a lot of crap products out there and a lot of BS to sort through. That's why we love it when our patients show off their real Capillus 312 results.
Below, we'll show you two of our patients' Capillus results after 1 year and after 6 months respectively. Hopefully, these real Capillus 312 results will make you a believer and help you make the final choice to begin your hair restoration journey using Capillus RX 312.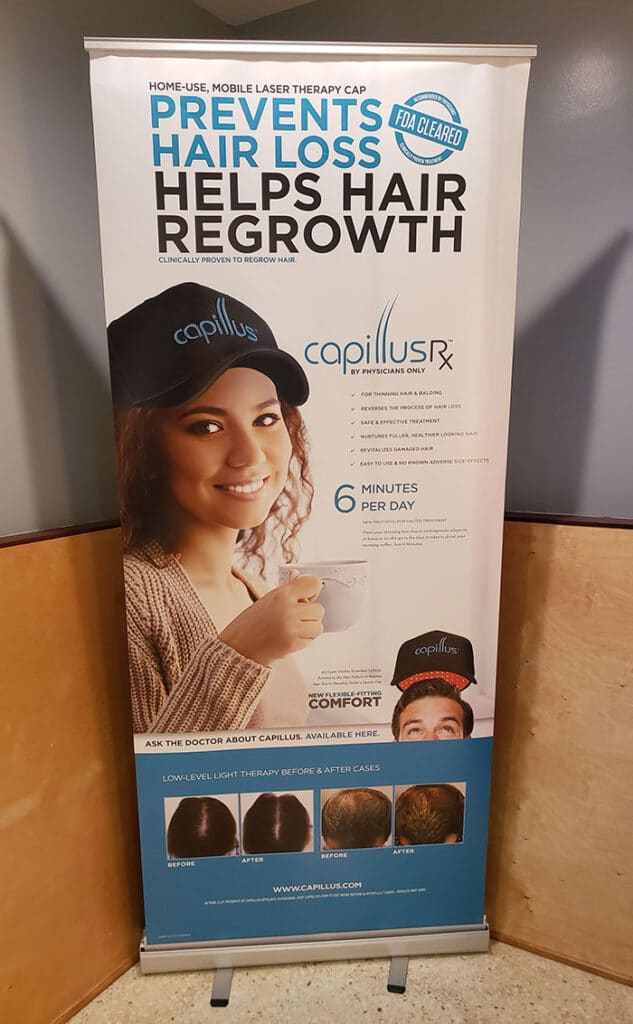 Real Capillus 312 Results
Capillus Before & After Patient #1
First, let's examine the patient below. You can see both a left-facing view and a right-facing view. Having multiple angles really showcases just how effective Capillus is at restoring lost hair. These real Capillus 312 results show that this patient was suffering from male pattern baldness and hair thinning. Below you can see his results from both the left and the right side of his head so you can see just how much Capillus helped regrow his lost hair. We have images below of his before images and after images 1 year later.
Most of his hair loss was centered in the front where his hairline was receding. However, while well-covered, he was experiencing thinning all throughout his head. Unfortunately, neither of the left or right before pictures shows just how much hair he was losing on the crown. But it was on the way out. If you look closely at the two before images, you'll notice just how thin the hair was at the front of his head. Lucky for him, he decided to use the best lasercap on the market – the prescription-grade Capillus 312.
As a result, 1 year later, these real Capillus 312 results images show just how much his hair thickened up. It's noticeable mainly in the fact that his hair was so thin before that it had trouble being styled. You can see in these real Capillus 312 results that he is now able to style the front of his hair. It has grown in so much in the front. Additionally, you can see similar results all over his scalp. Not only does it look thicker and more full, but it also has a healthier appearance.
Capillus Before & After Patient #2
Our second Capillus hair cap user gave us images of her results in just 6 months which is pretty amazing if we do say so ourselves. As you can see in the real Capillus 312 results below, this patient had a lot of hair on her head. However, the top was beginning to thin and thick bald lines were starting to become more apparent. You'll see this very apparent in the image before she started using the Capillus 312 lasercap. What is not apparent is the large bald spot in the center which is well-covered in the before images.
1 month later, you can see that her main bald spot has started filling in a bit and some of the lines have filled in to the point where they are much less apparent. Now, three months into using Capillus, the bald spot has filled in much more, and even though it looks similar to the before image, this time, the patient had no need to work hard to cover up just how much hair loss was present in the spot as she previously had. Finally, six months into using Capillus, the center thinning has filled in very nicely and is barely visible.
We can't wait to see her progress at the 1-year mark. A patient like this who had nice thick hair around the edges should have no problem looking much more youthful in that time. These results are amazing and are a testament to the power of the Capillus laser hat.
Call Us for Your Capillus Hair Cap
Why wait? Contact us today to ask about the Capillus 312 laser device. If you're not sure, call us so we can have a free virtual consultation with you to discuss your available options and how laser hair therapy may be beneficial for your unique hair loss situation and hair restoration goals.
Laser Cap Me offers better prices for the Capillus hair cap laser hair restoration hat than you can find for a lesser-grade device. So what are you waiting for? Stop hair loss now! Contact us or visit our store to purchase your Capillus 312.
You can reach us at 213-403-0455, or send us an email. You can also find out further details by visiting our clinic's site Best Hair Transplant.