What is Traction Alopecia?
Traction alopecia is a hair loss condition that is caused by repeatedly pulling on the hair. Traction alopecia usually occurs due to tight hairstyles such as ponytails or buns. This is especially true if they are styled in combination with harsh hair chemicals or heat tools. Depending on the severity of your condition, traction alopecia can be reversed in most cases.
Traction alopecia was first identified by doctors in Greenland in the early 1990s. These researchers noticed that women who wore their hair in tight ponytails lost hair along their hairline. Early symptoms of traction alopecia are often expressed as little bumps on the scalp that look like pimples. As it progresses you will begin to notice thinning and broken hairs.
Other symptoms of traction alopecia include redness of the scalp, bumps, and soreness. You can also experience stinging of the scalp, itching, scaling, and even pus-filled blisters on the scalp. Folliculitis is another symptom. This is a skin condition in which the hair follicles become inflamed. It creates small red bumps or white-headed pimples around the hair follicles.
If left untreated the infection can spread, turning into crusty sores. If you don't take action to address the causes of traction alopecia the hair follicles will continue to sustain damage. As a result, they'll become so scarred that they can no longer produce new hair.
How Do You Get Traction Alopecia?
You are at greater risk for developing traction alopecia if you pull your hair into tight styles. Yes, ponytails and buns both count. It can also happen as a result of you wearing your hair in tight braids, cornrows, or dreadlocks. If you wear heavy hair extensions or weaves, watch out for signs of traction alopecia. Wearing your hair up in rollers overnight can also cause a lot of pulling on the roots. Even the weight of having very long hair can pull on the scalp.
While mostly women suffer from traction alopecia, men can get traction alopecia too. However, it often occurs in their beards if they are twisted too tightly. This condition can affect people of any ethnicity. It occurs more frequently among people in professions that tend to put their hair up in tight buns, such as ballerinas or gymnasts. However, anyone can fall victim to traction alopecia if the circumstances are right and they aren't aware of the possibility of developing it. Luckily, traction alopecia is not a debilitating disorder. In fact, with some knowledge and helpful solutions, you should be able to reverse traction alopecia and begin regrowing lost hair in no time.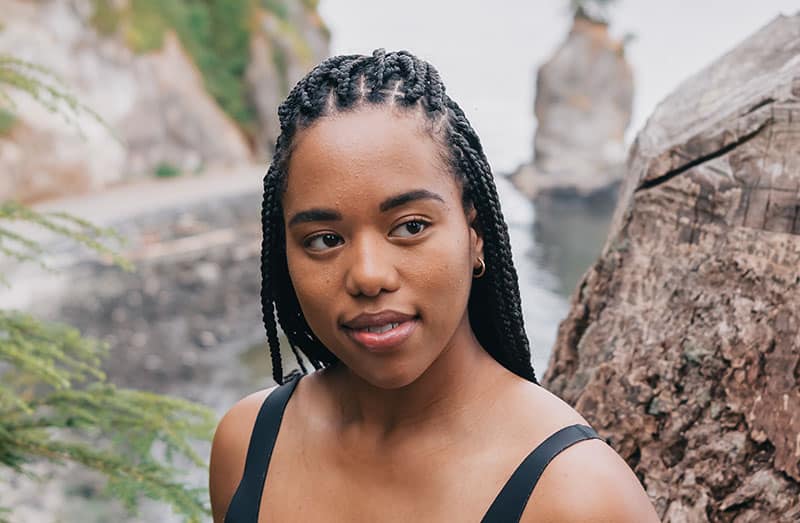 How Can I Prevent Traction Alopecia?
To prevent traction alopecia wear the hair down, or if it must be worn up, keep it loose, or wear it low on your head. Other helpful preventative measures include changing your hairstyle every few weeks, for example, you can alternate between wearing the hair in loose braids and wearing the hair down. Swap out elastic hair bands for hair sticks or soft scrunchies. Don't use rubber or elastic bands to hold up your hair.
Additionally, avoid wearing any kind of extension or weave, and avoid box braids. Furthermore, avoid chemically processing the hair with bleaches or hair relaxers. After all, doing so can make the hair more susceptible to breakage. If you wear your hair in braids or dreadlocks, make them thick. Thinner braids pull more tightly on the scalp. Keep the heat settings low on your styling tools and opt for low heat hair dryers and styling wands. Better yet, ditch the heat styling altogether. Use protective styling methods, like wrapping up your head in a silk scarf or using a bonnet or doo-rag to cover hair while sleeping.
If you are experiencing any kind of scalp irritation you may want to visit a dermatologist. They can examine your scalp and may take a biopsy in order to rule out any other possible causes of your hair loss. Other treatments that are often prescribed for traction alopecia include topical steroids. These bring down swelling in the scalp. Antibiotics and antifungal shampoos can help as well. They prevent infection if there are any open sores present. Finally, minoxidil (Rogaine) is commonly recommended to regrow hair lost to traction alopecia. If you've lost a lot of hair and it's not growing back easily you might want to consider low-level laser therapy (LLLT).
LLLT May Help Reverse Traction Alopecia
Red blood cells undergo stimulation from oxygen and nutrients during the LLLT process, resulting in increased blood circulation to the scalp. Overall, the health of the hair and scalp are boosted, and growth along the hairline is restored. This is great news for anyone suffering from traction alopecia. At Laser Cap Me, we're proud to provide our customers with CapillusRX 312, the most powerful laser cap product available, with 312 prescription-grade laser diodes.
Furthermore, the CapillusRX 312 is completely painless to use, and only requires 6 minutes a day of use. Wear it hands-free, and on the go. After all, it doesn't need to be plugged in while you wear it and it's discreet enough to be worn under a ball cap. Its flexible, hypoallergenic base is comfortable and will mold to the shape of your head. The CapillusRX 312 has been studied in double-blind clinical trials that were observed by a neutral 3rd party. 95% of the participants that were not given the placebo product saw increased hair density and hair growth of 51% within 16 weeks of using the CapillusRX 312.
Contact Us to Learn More About Capillus Lasercaps
If you are curious about whether the CapillusRX is the best choice for you, read our testimonials and look at real Before and After photos. We are currently extending a special Before and After photo subsidy offer. By participating in a photo documentation results study, we offer a $1000 instant rebate off the cost of your CapillusRX 312.
If you have been suffering from traction alopecia, the CapillusRX 312 is a gentle, yet effective solution that will help to restore your natural hair. And best of all, women benefit highly from LLLT scalp stimulation. This may be exactly what you've been looking for and you won't have to spring for costly surgery that may not be necessary for your type of hair loss. Want to learn more? Contact us now for a free lasercap consultation.
Call Us for Your Capillus Lasercap
Contact us today to ask about the Capillus 312 laser device. If you're not sure, call us so we can have a free virtual consultation with you to discuss your available options and how laser hair therapy may be beneficial for your unique hair loss situation and hair restoration goals.
Laser Cap Me offers better prices for the Capillus hair cap laser hair restoration hat than you can find for a lesser-grade device. So what are you waiting for? Stop hair loss now! Contact us to purchase your Capillus 312.
You can reach us at 213-403-0455, or send us an email. You can also find out further details by visiting our clinic's site Best Hair Transplant.
References: